Top 5 Cricket Games in 2019
by Rudraaksh Bhatyal
December 26, 2019
0 comments
Cricket is a game that is revered in India. It has a religious fan following and the players are seen as Gods by many. When the first cricket games came out, they sold like hotcakes. That was when EA Sports became a household name in India and that was when everyone knew what the tag line of EA Sports was: "It's in the game". But sadly, EA Sports hasn't released a cricket game since, concentrating more on FIFA. And quite frankly, there haven't been a lot of great cricket games either. But here, we will talk about some games that are indeed beautiful.  
Here is our list of the Top 5 Cricket Games in 2019: 
EA Sports Cricket 2005 
After the disaster that was Cricket 2004, EA sports came with the marvellous Cricket 2005. Cricket 2004 was a graphical nightmare, being awarded the "worst graphics on PlayStation" by IGN. Cricket 2005 did better and had all the teams licensed with original player names, which was the last EA game to do so. It was also the game which made EA Sports popular, and everyone with a PC had this game. 
EA Sports Cricket 2007
This was the last Cricket game that EA Sports published. By then EA had lost the licensing for all the players and teams except New Zealand, England, Australia and South Africa. It featured various events like the Test Series, KFC Twenty20 Bash, World Series etc. It also featured certain match conditions, such as different pitches and weather conditions.  
Don Bradman Cricket 2017
This game, named after the cricketing greats, is perhaps one of the best cricket games available right now. This game was well received and praised by critics. It comes with modern graphics, precise gameplay and community-driven content. All the averages of individual players and even the likeness in the game are updated by fans and community members. Other than that, it also offers a "career mode" and new shots like the reverse sweep and the famous helicopter shot. 
Don Bradman Cricket 2014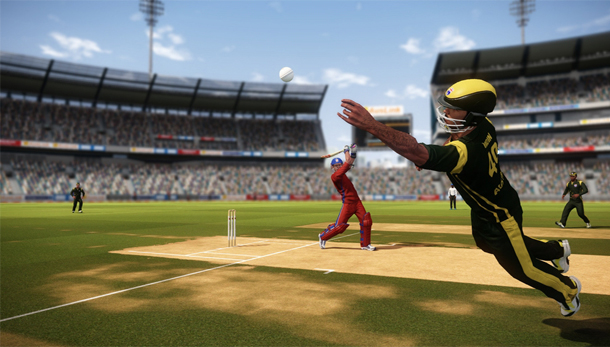 This is the precursor to our previous entry on the list. It was very well received, with IGN going so far as to say that it is "easily the finest and fully-featured cricket game ever made" during the time. But what really matters is it that it offers online multiplayer gameplay.  
Cricket 19
This is the most popular Cricket game in 2019. It has been developed by Big Ant Studios, which has been the only studio making cricket games since EA Sports and also developed the Don Bradman Cricket games. Learning from their mistakes, they have made a really fine and complete cricket game. It feels like the real deal and the AI and the physics are very realistic. It is the official game of the Ashes, with only the Australian and the English cricket team being fully licensed. Other unlicensed teams are also included though, like India, New Zealand, Pakistan, South Africa, West Indies, Bangladesh and Afghanistan.