Apple WatchOS 2: Quick preview of what's landing on your wrist
by Anuj Sharma
September 22, 2015
0 comments
watchOS runs on the Apple Watch similarly like iOS is built for iPhones and iPads. While watchOS has hs been built from the scratch for the Apple Watch along with features and apps that take advantage of all of the hardware in the device.
The first larger update for the Apple Watch is now available for download. Apple's Watch OS 2 includes new watch faces, improved third-party apps and better performance. It even adds more Wi-Fi support so you can run apps, make calls and issue voice commands without the need for an iPhone close by.
Apps like Activity and Workout fetch data from the accelerometer and the heart rate sensor, while communication features let users send sketches, heartbeats, and animated emoji. Once synced with iPhone notifications are delivered on the Apple watch with small haptic taps on the wrist. New features include:
Watch Faces
Watch face is the first thing you will encounter when you will use it. watchOS 2 introduces two new ways to set your watch face.
The first one is to choose a image from the Photos app on your watch and set it as your watch face. And with the Live Photos feature, you'll also see a beautiful animation of the motion before and after you took the photo.
Also if you took an album the Apple Watch will display a different photo each time you raise up your wrist, cycling through all of the favorites. If you pick a single photo, it'll always show the same image.
The second watch face is a Time-Lapse face that displays videos shot over 24 hours in different locations around the world and when you will look at your watch, the image will be different based on the time. For example, with the New York watch face, if you look at your watch at 10:00 a.m., you'll see a sunny skyline. If you look at your watch at 10:00 p.m., it'll be dark and you'll see a skyline filled with lights.
TIME TRAVEL
A new feature called Time Travel debuts on Apple watch, which lets you turn the Digital Crown to turn time forwards or backwards to display upcoming calendar events or weather forecasts. You can also go back in time to catch up on news headlines you may have missed.
As described by Apple, Time Travel is a useful feature for complications, which are the little tidbits of extra information (weather, calendar events, date, etc.) that are displayed on certain Apple Watch faces.
Nightstand Mode
This mode allows you to use your watch as a alarm clock when you are not wearing it. Just place it on its side and connect the charger and the Apple Watch will automatically go into Nightstand mode, a digital display that illuminates whenever you touch the screen, the Digital Crown, or the side button.
Nightstand mode also changes the function of the buttons on the Apple Watch when used as an alarm. When an alarm sounds, the side button turns it off while the Digital Crown acts as a snooze button.
Activation Lock
In the earlier version of watchOS, it was possible to reset an Apple Watch and bypass the passcode, meaning a stolen Apple Watch could be paired with a new iPhone. Now when while resetting the new OS requires Apple ID and password thus making them useless even if stolen.
Faster Apps
watchOS 2 now comes with many apps are native apps, which means they run entirely on your Apple Watch and does not require an iPhone. So they load more quickly. Apps can now take advantage of features like the Taptic Engine, Digital Crown, accelerometer, heart rate sensor, speaker, and microphone.
Reply to email
Now you can respond to mail directly from your Apple Watch, a feature not present in earlier version of watchOS. Just tap Reply at the bottom of a message. Then dictate a response, send an emoji, or choose from a list of relevant, preset replies.
Do more with Siri
Siri is now an even more versatile personal assistant. You can use your voice to do things like start a specific workout, check your Glances, get transit information, look up a word in the dictionary, and calculate a tip.
Transit
Transit lets you combine more kinds of transportation in a single trip. Available in select cities around the world, Transit lets you see detailed maps and accurate train, subway, and bus schedules. And you can get walking directions to and from your stop.
Adding more Friends
The Friends feature on Apple Watch helps you add multiple Friends screens, each of which can hold up to 12 contacts. And you can add a friend from your contacts directly on your watch.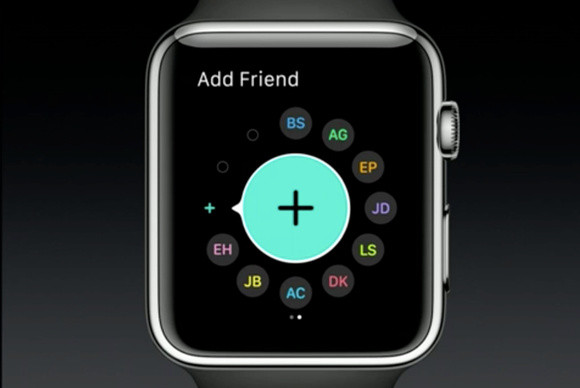 Tetherless Wi-Fi
The Apple Watch will be able to connect to open Wi-Fi networks without needing to connect to your iPhone first. You can leave your phone in another room and your wrist will serve as a suitable alternative.